I received a free copy of this book through Netgalley. This does not affect my opinion or my review of the book in any way. Many thanks to the publisher for providing me with this eARC!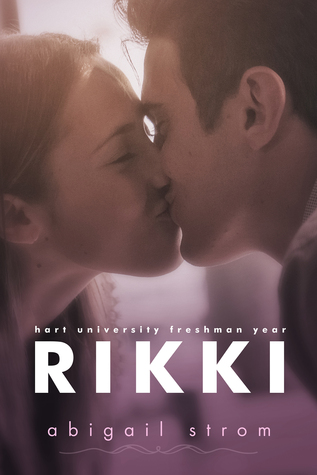 by Abigail Strom
Series: Hart University #1
Genre: New Adult, Romance
Publication date: September 22, 2015
Kindle Edition, 205 pages
My rating: 4/5 ★
Ever since junior high and an ill-fated game of seven minutes in heaven, Rikki Eisendrath and Sam Payne have hated each others' guts. But when they end up at the same college—and the same dorm—they figure it's time to declare a truce.

They even become friends… sort of. But when Sam asks Rikki to model for his sculpting project, they start spending more time together—and her feelings for him get more complicated.

She tries to focus on the guy she's been crushing on instead. But Sam's the one she can't stop thinking about, even though their arguments are starting to heat up as much as the chemistry between them.

With antagonism and attraction this intense, there's bound to be an explosion. But when the dust settles, will Sam and Rikki be enemies, friends… or something more?
Rikki didn't disappoint, but it didn't surprise either. What I expected from the summary and from the New Adult genre is pretty much what I got. It was a cute story and I enjoyed reading it a lot (and finished it really quickly because I couldn't put it down) but there were also some aspects that bothered me, hence the four stars (or more like 3.5).
Rikki and Sam have always competed against each other in school and therefore they weren't the best of friends. They pretty much hated each other, really. But then somehow, they also don't. I liked their story of hatred turned to friendship turned to maybe something more. It was rather predictable, but I expected that from the summary and it didn't keep me from enjoying the journey.
What I really liked about Rikki's character was that she seemed very 'modern'. She has two mothers, she doesn't believe in slut-shaming and she generally tried not to be prejudiced against anyone. All of this, however, was very heavily underlined throughout the story. I wish it could've been a little more subtle, so that it doesn't feel forced.
"I was being totally heterocentric and I didn't even notice. It just goes to show
how unconscious our preconceptions are. Sorry about that."
"No, thanks. But makeup doesn't make a woman slutty."
"So you're saying I'm not slutty?"
"I don't believe in slut-shaming girls for how they dress or do their makeup or--"
"How many guys they've slept with?"
"That, either. No one should be shamed for their choices."
Again, I think it's great that these things are actually addressed in the book, but these two quotes just don't feel like natural conversation to me. I would've wanted to see the fact that Rikki and her friends had these opinions more in their actions. I also had some other problems with the writing. It was often too descriptive, especially when Sam was concerned. His face, his body, his everything was described so incredibly detailed that it felt very unnatural. The same goes for Rikki's thoughts in general. The story is told in first person from Rikki's point of view and we spend a lot of time inside her head. Her thoughts are described in so much detail, and sometimes I would've wanted there to be more doing and less thinking.

Another thing I liked was how the author handled the sex aspect. As you probably know, New Adult novels are usually very steamy and often focus a lot on sex. Strom managed to give the story just enough steam without making it only about sex. It was a love story first but of people who are in college, so that topic couldn't simply be ignored.
I would recommend Rikki if you're a fan of New Adult and in the mood for something quick, fun and not too deep. I felt like the author tried to give the story depth and make it thought-provoking, which I appreciate, but for me it didn't really work. But since that wasn't what I was looking for in Rikki, I was able to simply like it for what it was.