This is the second book in the series and might contain spoilers for the previous book!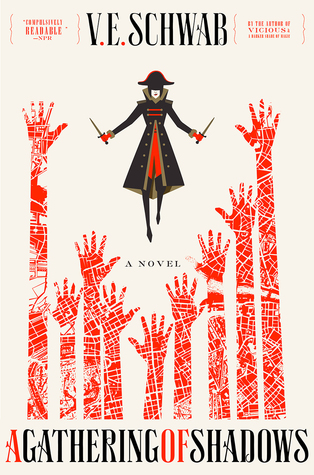 A Gathering of Shadows
by V.E. Schwab
Series: Shades of Magic #2
Genre: Fantasy
Publication date: February 23, 2016
Published by: Tor Books
Hardcover, 512 pages
My rating: 5/5 ★
It has been four months since a mysterious obsidian stone fell into Kell's possession. Four months since his path crossed with Delilah Bard. Four months since Prince Rhy was wounded, and since the nefarious Dane twins of White London fell, and four months since the stone was cast with Holland's dying body through the rift – back into Black London.

Now, restless after having given up his smuggling habit, Kell is visited by dreams of ominous magical events, waking only to think of Lila, who disappeared from the docks as she always meant to do. As Red London finalizes preparations for the Element Games – an extravagant international competition of magic meant to entertain and keep healthy the ties between neighboring countries – a certain pirate ship draws closer, carrying old friends back into port.

And while Red London is caught up in the pageantry and thrills of the Games, another London is coming back to life. After all, a shadow that was gone in the night will reappear in the morning. But the balance of magic is ever perilous, and for one city to flourish, another London must fall.
WOW! This book was amazing! I definitely enjoyed the first book in the series but this one was so much better! While ADSOM was a rather slow read for me, I couldn't put this one down. The emotional involvement (aka feels) I didn't really have with the first book was overpowering in AGOS. The whole book was absolutely perfect.
First and foremost, I adore all the characters.
Lila is reckless and sometimes stupidly so, and even though she is completely different from me personally, I felt like I understood her so well. All the things she's running from, her trust issues, her fears - they felt very authentic. I'm really impressed by the long way she's come and am very much looking forward to seeing what development she will go through in the next book. There were moments when I thought 'Oh Lila, what are you doing?' but I was never annoyed with her thoughtless actions. Lila is overall a really fascinating character and the relationships she's building with the other characters are giving me LIFE.
Speaking of which, Kell and Lila are my favorite thing ever. Their relationship is incredibly well developed. I loved their comradery in the first book but I love where it is headed even more. It is so well written and absolutely perfectly paced. Their stubbornness when it comes to deliberately not thinking about the other person fits their characters so perfectly and it makes my heart sing.
Kell himself is another very complex and interesting character that I absolutely love to read about. He is in a very difficult situation throughout the book as he doesn't really know where he belongs and has the most conflicted feelings. His internal conflicts were portrayed perfectly. All his thoughts made so much sense to me and I really hope we (and he himself) learn more about him and his past in the next book.
As to Rhy and Alucard, I can't wait for more of both of them. Alucard is such a fantastic addition to the already amazing set of characters in this series and he might actually be my new favorite. I see great things in his future!
I honestly can't put the amazingness that is this book into words. I would tell you to read it, because you definitely should, but I don't want to be responsible for anyone's death-by-bookwait because that ending killed me.