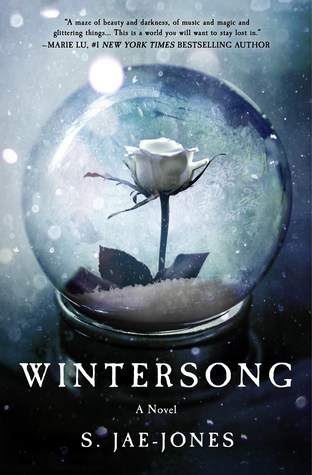 Wintersong
by S. Jae-Jones
Series: Wintersong #1
Genre: Fantasy, Young Adult
Publication date: February 7, 2017
Published by: Thomas Dunne Books
Hardcover, 436 pages
My rating: 3/5 ★
All her life, nineteen-year-old Liesl has heard tales of the beautiful, mysterious Goblin King. He is the Lord of Mischief, the Ruler Underground, and the muse around which her music is composed. Yet, as Liesl helps shoulder the burden of running her family's inn, her dreams of composition and childish fancies about the Goblin King must be set aside in favor of more practical concerns.

But when her sister Käthe is taken by the goblins, Liesl journeys to their realm to rescue her sister and return her to the world above. The Goblin King agrees to let Käthe go—for a price. The life of a maiden must be given to the land, in accordance with the old laws. A life for a life, he says. Without sacrifice, nothing good can grow. Without death, there can be no rebirth. In exchange for her sister's freedom, Liesl offers her hand in marriage to the Goblin King. He accepts.

Down in the Underground, Liesl discovers that the Goblin King still inspires her—musically, physically, emotionally. Yet even as her talent blossoms, Liesl's life is slowly fading away, the price she paid for becoming the Goblin King's bride. As the two of them grow closer, they must learn just what it is they are each willing to sacrifice: her life, her music, or the end of the world.
I have some mixed feelings about
Wintersong
. For the first half of this book, I was head over heels in love with the story and the writing. I was so sure this would become a new favorite of mine, but unfortunately it didn't turn out quite like that. The story became too whimsical and confusing for me and I started to lose interest, and then I felt like nothing really happened anymore at all.
I'll try to explain myself a little better: For me, there are three parts to this story. In the first one, the plot was more or less 'normal', nothing very magical happened here. This is when the beautiful and captivating writing style really stood out to me. It was almost poetic, and I loved it. Then the story took a very confusing turn, and I had trouble following it and understanding what's going on. The writing style, unfortunately, only added to my confusion at this point. And then in the third part, the plot slowed down, and I got a little bored. There is so much talk of music here, and everything was very dramatic but nothing really happened. I'm very sorry to say that this is when I really started waiting for the book to end.
As I said, there is a lot of talk about music in this book, which I'm sure would be incredibly enjoyable for people who play an instrument or have any understanding of music at all. Unfortunately, I don't, and I feel like it kept me from really getting into the story or identifying with it and the characters at all. Music really plays such a huge part in this book and for me this was just a big black hole I didn't really know what to do with.
Then there's the romance. I just didn't get it. I don't know how else to explain it: it didn't make any sense to me 99% of the time and the other 1% I was hopeful that it would finally turn around and become something that would speak to me, but it didn't. This was a huge disappointment to me as it was what I was most excited for in Wintersong. I really thought this would be the aspect of the story that would make me love it.
So overall, Wintersong did not live up to my expectations. I feel like it was hit or miss for me with this one, and unfortunately it ended up being the latter. I can totally see how other people would love all the things that I disliked about this book, so I won't discourage anyone from picking it up. It just did not speak to me personally.
Also, I want to say that this all sounds very negative but it's not as if I hated every single page in this book. But since the second part is where I had the most issues, and it's been months since I read the first half of the book, I don't remember exactly what I loved about it and I can't help but write a fairly negative review.