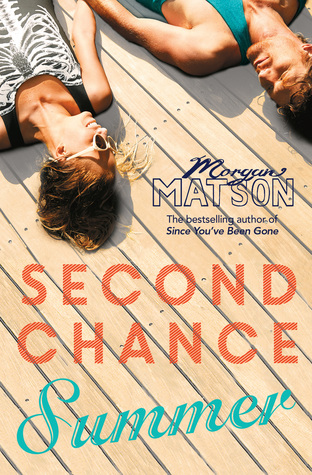 by Morgan Matson
Publication date: May 8, 2012
Published by: Simon & Schuster
Paperback, 480 pages
My rating: 5/5 ★


Taylor Edwards' family might not be the closest-knit - everyone is a little too busy and over-scheduled - but for the most part, they get along just fine. Then Taylor's dad gets devastating news, and her parents decide that the family will spend one last summer all together at their old lake house in the Pocono Mountains.

Crammed into a place much smaller and more rustic than they are used to, they begin to get to know each other again. And Taylor discovers that the people she thought she had left behind haven't actually gone anywhere. Her former best friend is still around, as is her first boyfriend, and he's much cuter at 17 than he was at 12.

As the summer progresses and the Edwards become more of a family, they're more aware than ever that they're battling a ticking clock. Sometimes, though, there is just enough time to get a second chance - with family, with friends, and with love.
I read this book while lying in the sun on beautiful Mykonos, and this is how it went: by the end, I was trying to hide my tears behind my sunglasses and was hoping that nobody would look at me too closely. Because why would anyone cry next to the pool, in such a beautiful place? Second Chance Summer is why.
I really, thoroughly enjoyed this book. I expected a fun summer romance. And even though that is kind of what I got, this book was also so much more. It was somehow refreshingly different while still being kind of predictable. Let me explain.
Second Chance Summer focuses on family and, as the title says, second chances. Taylor was an interesting main character and she had her flaws. Because of a habit of running away as soon as things got difficult, her return to the family's summer house after a five year absence was all the more difficult, with an ex-boyfriend and ex-best friend waiting for her. But watching Taylor develop and facing the consequences of her actions was what made this book so good and I could've definitely learned some things from her.
What I really loved about the family aspect was how dysfunctional the family seemed in the beginning. I feel like all the families in YA that we love are the happy, loyal kind, where everyone is each other's best friend. The Edwards, however, were completely different. Taylor didn't have any special bonds with her siblings or her mother and her father was a lawyer who never really had enough time for her. Watching them grow closer warmed my heart.
Overall, the story felt very real to me. While a big part was teenage drama (but not in a bad way), it also touched on more difficult topics. The way it deals with illness is different from other books I've read and I liked that a lot.

I would recommend Second Chance Summer to anyone who is looking for a summery read that isn't too heavy on the romance and focuses on life's other aspects instead. All in all, it's the perfect mixture of friendship, love and family and as always, Morgan Matson manages to capture all of those aspects in a way that makes it easy to connect with the story.