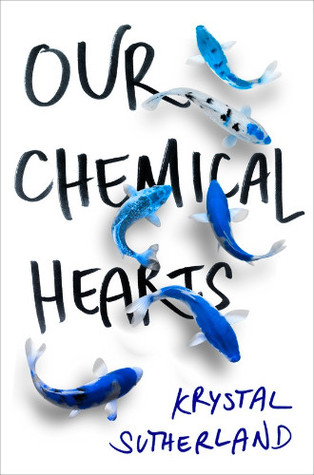 Our Chemical Hearts
by Krystal Sutherland
Genres: Young Adult, Contemporary
Publication date: October 4, 2016
Published by: Hot Key Books
Paperback, 313 pages
My rating: 4.5/5 ★
'I always thought the moment you met the love of your life would be more like the movies...'

Henry Page is a film buff and a hopeless romantic. He's waiting for that slo-mo, heart-palpitating, can't-eat-can't-sleep kind of love that he's seen in the movies. So the last person he expects to fall in love with is Grace.

Grace Town is not your normal leading lady. She dresses in oversized men's clothing, smells like she hasn't washed in weeks and walks with a cane. She's nobody's idea of a dream girl, but Henry can't stop thinking about her.

There's something broken about Grace; a small part of her soul is cracked from the secrets in her past. Henry wants nothing more than to put her back together again, but will she let him.

John Green meets Rainbow Rowell in this heartbreaking tale of bittersweet first love.
Our Chemical Hearts
was a beautiful and heartbreaking story. There are so many aspects of this book that I loved, so I've compiled a little list to get my thoughts organized:
FRIENDSHIP - Henry, Lola and Murray share this wonderful, close friendship that was basically the backbone of the entire story. Especially Lola was such a fantastic friend to Henry throughout the entire story, and I loved to see her always be there for him and, most of all, be (sometimes brutally) honest with him. Our Chemical Hearts captures the importance of friendship incredibly well, something I feel is too often sacrificed for romance in YA.
FAMILY - Henry's parents and sister also played an important and realistic role in the story. They were there, supportive, and hilarious to read about.
LOVE - The love story in this book is far from perfect. At times it was just your regular cute story of two teenagers falling for each other, but mostly it was very hard to read. It made me angry, and it was so unfair. It kind of broke my heart to read this book from Henry's perspective, but all of this together made the love feel very real to me. Aside from the 'main' romance, there are also a couple of side stories that were just as precious to me. All stages of falling in love and being in a relationship were very realistically captured in different characters, and it was both beautiful and sad.
LOSS - I've known this about myself before, but stories about loss always really get to me, and Our Chemical Hearts was no exception. The way the subject was portrayed in this book was very different from other books I've read. It was heartbreaking and unhealthy, and there wasn't really a silver lining to it. All I can say is that my heart is broken.
HEARTBREAK - We get so many stories of falling in love and how wonderful it is, but what if it doesn't work out? This is a topic I haven't really read about before, and I thought the feeling was captured incredibly well in this book. I'm also grateful that Krystal Sutherland had the courage to do something different int his regard, because I absolutely loved it.

"John Green meets Rainbow Rowell in this heartbreaking tale of bittersweet first love" - I don't think a sentence has ever summarized a book this accurately before. Our Chemical Hearts made me smile, laugh out loud, and cry a lot, and I would recommend it to anyone.