I received a free copy of this book through Netgalley. This does not affect my opinion or my review of the book in any way. Many thanks to the publisher for providing me with this eARC!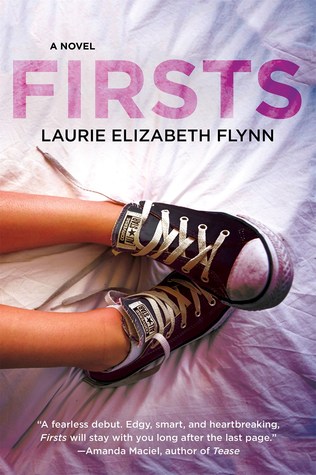 by Laurie Elizabeth Flynn
Genre: Young Adult, Contemporary
Publication date: January 5, 2016
Published by: St. Martin's Griffin
Kindle edition, 320 pages
My rating: 3.5/5 ★
Seventeen-year-old Mercedes Ayres has an open-door policy when it comes to her bedroom, but only if the guy fulfills a specific criteria: he has to be a virgin. Mercedes lets the boys get their awkward, fumbling first times over with, and all she asks in return is that they give their girlfriends the perfect first time- the kind Mercedes never had herself.

Keeping what goes on in her bedroom a secret has been easy- so far. Her absentee mother isn't home nearly enough to know about Mercedes' extracurricular activities, and her uber-religious best friend, Angela, won't even say the word "sex" until she gets married. But Mercedes doesn't bank on Angela's boyfriend finding out about her services and wanting a turn- or on Zach, who likes her for who she is instead of what she can do in bed.

When Mercedes' perfect system falls apart, she has to find a way to salvage her reputation and figure out where her heart really belongs in the process. Funny, smart, and true-to-life, FIRSTS is a one-of-a-kind young adult novel about growing up.
I have conflicted feelings about this book. There were many aspects that I enjoyed, and others that I wasn't so sure about. Firsts addresses some difficult and important topics that separate it from the usual YA contemporary (romance) novels. It also presents a very unusual and somewhat controversial main character that is the main reason for my uncertainty about my thoughts on the story.

On one hand, I did not like Mercedes and it was incredibly hard to connect with her and feel for her. She has so many issues and does the stupidest things, and it was absolutely infuriating to read about it. But then I think, somehow that's also a good thing. Firsts definitely doesn't portray a teenager that is in control of her life. It's a story about a girl who has literally no clue what she's doing and makes all the wrong choices because she has no role model. Her family life is completely messed up, so that she also has huge trust issues. Mercedes was unable to open up to absolutely anyone (seriously, not anyone). She kept all those secrets until it got way too much for her to handle. I kept thinking that her inability to talk about herself and just trust people was overdone and unrealistic. But then I had to remind myself that just because Mercedes isn't like me, that doesn't mean that people can't have those issues.
I guess what I'm trying to say is that Firsts was a hard book for me to read and it was even harder to warm up to Mercedes. But I don't want to judge the story too much because of that.
One thing that I thought was interestingly portrayed was Mercedes's relationship with Faye, the new girl that arrived at their school. All throughout the book, Mercedes isn't sure if she has only friendly feelings towards Faye or if it's more than that. It showed her general confusion about herself and her life perfectly and I think it really helped her character development. I myself didn't really like Faye, though, but I was glad she was there for Mercedes. She was a really good friend, if a little too much and over the top at times.
Zach, Mercedes's friend-with-benefits kind of thing, was the only character in the story that I really liked. He was kind and patient and always tried so hard. It was impossible not to root and feel for him.
One thing that bothered me was that I feel like lots of things weren't quite resolved at the end. I would've needed something more,
more information about what happened, etc. The ending was too focused on the romance, which hadn't played such an important role in the story up until then. Because of that, the topics that had been more prominent before didn't get enough attention, so the ending lacked closure.
Overall, I gave the book 3.5 stars (4 on goodreads) because I enjoyed the story for the most part. I would recommend Firsts to people who are looking for a different contemporary read. As I said, my own feelings are very conflicted, and I don't think this will be everyone's cup of tea. If I had to compare it to any other book I've read, I would have to go with The DUFF by Kody Keplinger, though I have to say I didn't enjoy it quite as much.