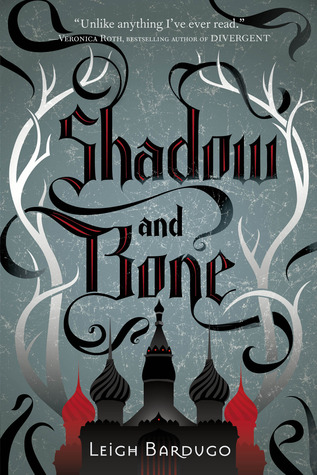 by Leigh Bardugo
Series: The Grisha #1
Genre: Young Adult, Fantasy
Publication date: June 5, 2012
Published by: Henry Holt and Company
Hardcover, 356 pages
My rating: 3.5/5 ★
Surrounded by enemies, the once-great nation of Ravka has been torn in two by the Shadow Fold, a swath of near impenetrable darkness crawling with monsters who feast on human flesh. Now its fate may rest on the shoulders of one lonely refugee.

Alina Starkov has never been good at anything. But when her regiment is attacked on the Fold and her best friend is brutally injured, Alina reveals a dormant power that saves his life—a power that could be the key to setting her war-ravaged country free. Wrenched from everything she knows, Alina is whisked away to the royal court to be trained as a member of the Grisha, the magical elite led by the mysterious Darkling.

Yet nothing in this lavish world is what it seems. With darkness looming and an entire kingdom depending on her untamed power, Alina will have to confront the secrets of the Grisha . . . and the secrets of her heart.
I enjoyed this first book of the Grisha trilogy, but I have to say that it didn't blow me away. I am interested to continue with the series, though, so that's good.
I had two main (though altogether still rather small) issues with this book, which I think kept me from falling completely in love with it. First of all, there are a lot of 'technical terms' with regard to the magic system, which made it pretty difficult to get into the story and the world. I still don't fully understand the whole system, and I definitely don't understand what exactly the different 'types' of Grisha do. I'm hoping that this will become clearer in the next books.
The second thing was the writing. I have heard a lot of people rave about Leigh Bardugo's writing, which makes me think that maybe the 'problem' I had with it is only in the first book. But to me, the story didn't have a very great flow. The important things happened too abruptly in my opinion, where I would have wanted the scene to be fleshed out a little more. All in all this made me feel more distanced from the story, and I definitely didn't get as invested with the characters as I would have liked. Also, none of the romance scenes made me feel anything at all, which is pretty disappointing for me.
I really hope to get more into the story and the characters in the next book!