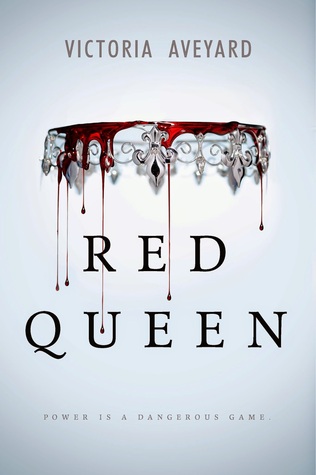 by Victoria Aveyard
Series: Red Queen #1
Publication date: February 10, 2015
Published by: Harper Teen / Orion
Hardcover, 383 pagees
My rating: 4/5 ★
Mare Barrow's world is divided by blood--those with common, Red blood serve the Silver- blooded elite, who are gifted with superhuman abilities. Mare is a Red, scraping by as a thief in a poor, rural village, until a twist of fate throws her in front of the Silver court. Before the king, princes, and all the nobles, she discovers she has an ability of her own.

To cover up this impossibility, the king forces her to play the role of a lost Silver princess and betroths her to one of his own sons. As Mare is drawn further into the Silver world, she risks everything and uses her new position to help the Scarlet Guard--a growing Red rebellion--even as her heart tugs her in an impossible direction. One wrong move can lead to her death, but in the dangerous game she plays, the only certainty is betrayal.
If I had to describe Red Queen in one word, I would have to go for solid. The book neither exceeded my expectations (which were pretty high) nor did it let me down. Overall, it was pretty much exactly what I thought it would be. The story was nothing entirely new or different but it was executed well and very well written. I liked all the characters (at first at least) but didn't feel overly connected to any of them. The romance aspect was nicely done but it didn't make my heart race. The plot twists were kind of expected but the story still kept me on edge because I could never be entirely sure what as going to happen (well, until I glanced at the last page and spoiled myself. Stupid, stupid, STUPID!).
I think I just described a pretty average book, so why did I give it four stars instead of three? Because I still enjoyed Red Queen a lot, more than a three star read. I have this soft spot for the common-girl-is-thrown-into-nobility kind of story and the fact that our main character, Mare, was learning about an ability she never knew she had at the same time only added to that. Although it was nothing new and I think I've read many similar books before, I still loved reading another one. Especially because Red Queen was beautifully written and the small things that set it apart from the books I've read before were enough to make me really like the book.
I loved the world of Silvers and Reds. The Silvers with their supernatural abilities were fascinating and I kept comparing their powers to eachother and thinking about what ability I would want to have (I haven't decided yet). Other than that the Silvers have cool powers, however, we don't really know much about the world Mare lives in. There's a king, the Silvers are privileged, the Reds suffer and have to fight a brutal war for the Silvers. More than that, I still don't really know. But considering that the story is told from Mare's point of view and she probably doesn't know more about her world either, I can't say that the worldbuilding lacked or anything like that. I do want more information in the next books, though.

The romance aspect, or lack thereof, was another thing I really liked. Often with books like these, I expect a heavy focus on who the girl falls in love with. Red Queen was certainly different on that point. Throughout the book, Mare doesn't really have the time and energy to think about what feelings she has for which guy and that just made so much sense to me. Here's a girl whose world just changed completely from one day to the next and it would've ruined the story for me if her only problem had been that she doesn't know who she's in love with. Thank you, Victoria Aveyard, for not doing that.
Overall, I feel like Aveyard took the best aspects out of several books and put them together with the goal to create a believable story that feels simply right, leaving out all the things that sometimes bother me about YA fantasy. Hopefully, the other books in the trilogy will keep this up (I do not want that love triangle I can see coming, thank you!).
I would definitely recommend Red Queen to anyone who's intrigued by the story (or also just by the absolutely gorgeous cover).