I received a free copy of this book through Netgalley. This does not affect my opinion or my review of the book in any way. Many thanks to the publisher for providing me with this eARC!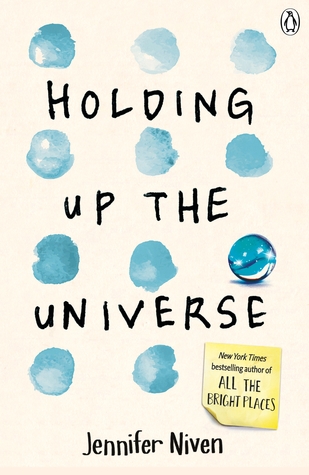 by Jennifer Niven
Genres: Young Adult, Contemporary, Romance
Publication date: October 4, 2016
Published by: Penguin Books UK
Ebook, 400 pages
My rating: 3.5/5 ★
Everyone thinks they know Libby Strout, the girl once dubbed 'America's Fattest Teen'. But no one's taken the time to look past her weight to get to see who she really is. Since her mum's death, she's been picking up the pieces in the privacy of her home, dealing with her heartbroken father and her own grief. Now, Libby's ready: for high school, for new friends, for love, and for EVERY POSSIBILITY LIFE HAS TO OFFER.

I know the part I want to play here at MVB High. I want to be the girl who can do anything.

Everyone thinks they know Jack Masselin too. Yes, he's got swagger, but he's also mastered the art of fitting in. What no one knows is that Jack has a secret: he can't recognize faces. Even his own brothers are strangers to him. He's the guy who can re-engineer and rebuild anything, but he can't understand what's going on with the inner workings of his own brain. So he tells himself to play it cool: Be charming. Be hilarious. Don't get too close to anyone. Until he meets Libby.

When the two get tangled up in a cruel high school game which lands them in group counseling, Libby and Jack are both angry, and then surprised. Because the more time they spend together, the less alone they feel. Because sometimes when you meet someone, it changes the world - theirs and yours.
Overall, this was an incredibly cute story about learning to love who you are, and also falling in love with someone else. It had some very positive aspects, but I still can't say that it's one of my new favorite books.
First of all, let's talk about the characters. I liked both of the main characters a lot. Jack is the popular guy who's actually really insecure on the inside, and Libby the outsider who's actually very confident and strong. I admired Libby for how she stood up for herself and how she handled her past that was always threatening to pull her back down. But most of all, I enjoyed reading about Jack and his struggle with prosopagnosia. Learning about his condition is definitely what stayed with me the most when I wasn't reading the book, and it kept me thinking and trying to imagine how life must be for Jack.
The story itself was cute, but also way over the top in my opinion. The romance was fortunately very subtle and well developed, which I absolutely loved. The characters' feelings seemed to develop over a reasonable amount of time, and what I liked most is that it wasn't this big deal when they discovered their feelings. As for the other aspects of the story, it was all too dramatic for my taste. I just can't deal with these public, out-there proclamations and actions, and I also struggle to identify with characters whose thoughts seem way too big for their age, etc., and this book unfortunately had all of that. I'm not saying that's entirely bad, or that I hated that, because I still enjoyed reading the book; it just kept me from really connecting to the characters and the story, and it would have definitely taken that connection to make this a 5 star raving review.
Another thing that I struggled with at first was the pacing of the story. There were a lot of jumps between what seemed like random scenes and flashbacks to the past, and we never really got to see anything play out. I don't know if that actually changed in the second half of the book or if I just got used to it, but I felt like towards the end there was more of a story with a natural flow and progression, which made it a lot easier to follow.
So overall I can say that if you're looking for a cute, well developed contemporary romance with interesting and likable characters, go read this book!