This is the fifth book in the series and might contain spoilers for the previous books!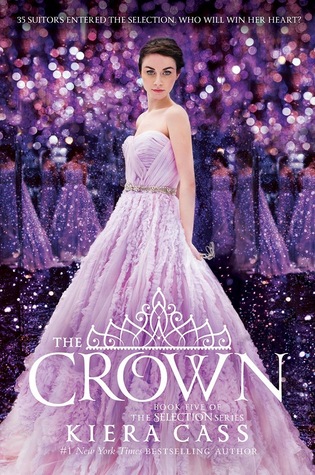 The Crown
by Kiera Cass
Series: The Selection #5
Genre: Young Adult, Dystopia, Romance
Publication date: May 3, 2016
Published by: HarperTeen
Paperback, 278 pages
My rating: 2/5 ★
When Eadlyn became the first princess of Illéa to hold her own Selection, she didn't think she would fall in love with any of her thirty-five suitors. She spent the first few weeks of the competition counting down the days until she could send them all home. But as events at the palace force Eadlyn even further into the spotlight, she realizes that she might not be content remaining alone.

Eadlyn still isn't sure she'll find the fairytale ending her parents did twenty years ago. But sometimes the heart has a way of surprising you…and soon Eadlyn must make a choice that feels more impossible—and more important—than she ever imagined.
Unfortunately,
The Crown
did not live up to my expectations at all. Especially considering that the story actually ended the way I had hoped it would after The Heir, I am very disappointed to say that I didn't like this book. Eadlyn ends up with the guy I had secretly hoped she would while reading the previous book, yes, but by the time she decides she was in love with him, there was actually a different, much better choice.

The first half of the book was actually pretty good. I was enjoying myself until about the last 100 pages, but then it went downhill really, really fast. The ending was essentially just one big rush of huge revelations. There was so much important information dumped on the reader without that it had been previously hinted at or really explained at all.


The plot in general and especially the romance (if one can call it that) was very, very rushed. There are two books centred around Eadlyn falling in love and in the end there wasn't any room to actually develop it? This was definitely the biggest disappointment for me. It had been going so well for so long: Eadlyn getting to know the boys and starting to like them for different reasons, it all felt really natural. But then this life-changing second happened (well, nothing actually happened) and destroyed it all. I had such high hopes for a well developed, slow-burn romance, but then Eadlyn literally fell in love in a single moment. First she talks about liking all the boys and not knowing what love even means, and then suddenly she's throwing around words like 'soulmate'. Wait, what?
I've read and enjoyed four books by Kiera Cass, but this one just didn't work for me. Even the writing seemed rushed. The dialogues especially felt forced to me, so that even though I actually liked some of the quotes, I was just rolling my eyes because they were too 'big' and didn't fit the situation at all. Conversation didn't flow naturally, and that is something that always throws me off in books.
Overall, it just felt like Kiera Cass wanted to get this book over with. I don't really mean that because I know how much work goes into writing a book, but in my opinion, The Crown doesn't compare to the other books of the series at all. It's a very weak ending to what I found a very fun and entertaining series.
As I said, I'm very disappointed. Considering how short this book is, I feel like there would have been so much room to flush out the story more, give it more depth and develop the characters and especially the relationship further.