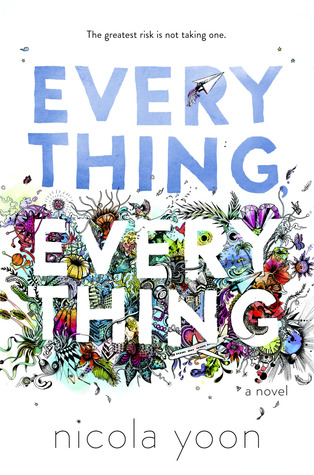 Everything, Everything
by Nicola Yoon
Genres: Young Adult, Contemporary, Romance
Publication date: September 1, 2015
Published by: Delacorte Books for Young Readers
Hardcover, 306 pages
My rating: 3/5 ★
My disease is as rare as it is famous. Basically, I'm allergic to the world. I don't leave my house, have not left my house in seventeen years. The only people I ever see are my mom and my nurse, Carla.

But then one day, a moving truck arrives next door. I look out my window, and I see him. He's tall, lean and wearing all black—black T-shirt, black jeans, black sneakers, and a black knit cap that covers his hair completely. He catches me looking and stares at me. I stare right back. His name is Olly.

Maybe we can't predict the future, but we can predict some things. For example, I am certainly going to fall in love with Olly. It's almost certainly going to be a disaster.
This book got quite a lot of hype when it was released last year and so my expectations had been pretty high. Unfortunately, I have to say I was a little underwhelmed by the story. There were some things that I really loved, such as the writing and the unique format of the book with its illustrations, etc. I also pretty much flew through it, so I can't say that it didn't get me hooked.
So why didn't I give it a higher rating? Everything, Everything is a pretty short book, and that was very noticeable for me while reading. I wish the characters were more fleshed out and the story better developed. A lot of times, things happened very abruptly and there would definitely have been room for more of a build-up for the big moments of the story.

The plot also really didn't make sense to me. I realize that a fictional story doesn't have to be logical or anything but for example a lot of aspects of Maddy's sickness weren't really explained. There are some people that are allowed to touch her, others aren't. When her teacher comes to visit her he has to go through decontamination but I don't think her mom or nurse do. I would have needed more information to actually buy the story, but before I really got to know anything or anyone, it was already over.


I can't really talk about one of my main reasons for not loving the book without spoiling anything, so only click below if you read the book!
View/Hide Spoiler
As I said, Nicola Yoon's writing is one of the things I really loved. It was light and easy to read but there are also some very quotable lines in the book. I'm definitely interested in reading more by this author, even though Everything, Everything wasn't quite what I had hoped it would be. I'm a huge fan of books written in letter, e-mail or IM format, so Yoon definitely made a fan by including all of that.