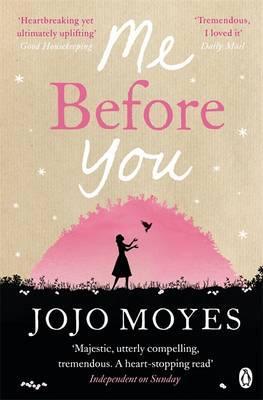 Me Before You
by Jojo Moyes
Series: Me Before You #1
Genres: Fiction, Romance
Publication date: January 5, 2012
Published by: Penguin
Paperback, 481 pages
My rating: 3.5/5 ★
Lou Clark knows lots of things. She knows how many footsteps there are between the bus stop and home. She knows she likes working in The Buttered Bun tea shop and she knows she might not love her boyfriend Patrick. What Lou doesn't know is she's about to lose her job or that knowing what's coming is what keeps her sane.

Will Traynor knows his motorcycle accident took away his desire to live. He knows everything feels very small and rather joyless now and he knows exactly how he's going to put a stop to that. What Will doesn't know is that Lou is about to burst into his world in a riot of colour. And neither of them knows they're going to change the other for all time.
I have the most conflicted feelings about this book and mostly, I just feel frustrated. My expectations had been sky-high when I started reading this. I was so ready for a beautiful, if heartbreaking love story. And I'm going go be honest, I feel a little let down. I can see why this is such a beloved book, and I definitely think the story is beautiful, touching and thought-provoking. But something just doesn't sit quite right with me.
For one thing, I didn't really cry, especially not at the end of the book. And coming from me, that's very unexpected and a bit of a disappointment in itself. As I said, I just feel frustrated. I feel like this book did not make use of all its potential (there had been so much potential to leave me a sobbing mess). And I don't even mean that I want it to have a different ending (although I kind of do). There was just a little something missing for me. I don't know if this makes me one of those people like Lou's mom. I don't think that I am. I am very much pro choices and I think that everyone should have the right to make their own decisions. I still can't help but feel frustrated. Maybe that's okay, though.
It's not all about the ending, though. I liked this book, I did. However, I was pretty irritated by Louisa, but then I'm very happy with the character development she went through. Louisa's sister and family in general were another aspect that really just frustrated me. It all seemed so miserable and Louisa's relationship to her sister and parents felt so wrong. And then there's Patrick who I thought was just completely horrible.
Overall this book was pretty depressing where I simply expected it to make me cry. It makes me feel really down, but not actually sad. It's weird.