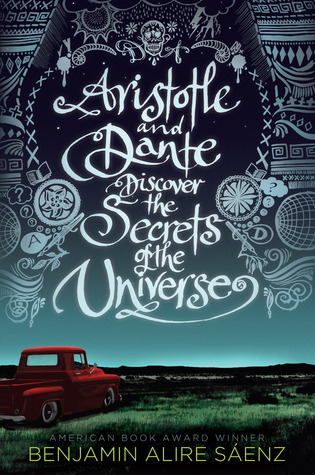 Aristotle and Dante Discover the Secrets of the Universe
by Benjamin Alire Sáenz
Publication date: February 21, 2012
Published by: Simon & Schuster Books for Young Readers
Paperback, 359 pages
My rating: ★★★★★
Dante can swim. Ari can't. Dante is articulate and self-assured. Ari has a hard time with words and suffers from self-doubt. Dante gets lost in poetry and art. Ari gets lost in thoughts of his older brother who is in prison. Dante is fair skinned. Ari's features are much darker. It seems that a boy like Dante, with his open and unique perspective on life, would be the last person to break down the walls that Ari has built around himself. But against all odds, when Ari and Dante meet, they develop a special bond that will teach them the most important truths of their lives, and help define the people they want to be. But there are big hurdles in their way, and only by believing in each other - and the power of their friendship - can Ari and Dante emerge stronger on the other side.
This was one of the most beautiful and honest books I have ever read. It broke my heart even though I didn't feel like I had a lot in common with any of the characters. But Benjamin Alire Sáenz used his wonderful words to make me feel so many emotions while reading about Ari and Dante. When I picked up this book, I never expected it to be as good as it was. To be honest, if it weren't for the
Little Book Club
, I probably would never even have thought of reading it at all.
The main focus of the story is Ari and Dante's friendship, how it came to be and all the struggles that come with being a friend. But the book was about so much more than that. It told so many different stories, all of them unique and beautiful to read about. Ari and Dante meet at the beginning of summer as Dante offers to teach Ari to swim. I loved their first encounter and everything that happened from then on. Their friendship grows incredibly strong even though both of them aren't very experienced with the friendship-business. Especially Ari has problems opening up to people and it was wonderful to see him do so more and more throughout the book. We get to learn so much about these two and the journey is simply beautiful.
Then there's Ari's family. I loved learning about them and finding out about all their own private wars that they were fighting. Because Ari's family didn't have it very easy. Ari's older brother is in prison and his dad is dealing with being a Vietnam war veteran. Not only Ari has a way of dealing with things on the inside, without talking to anyone, but his parents too. Talking about feelings is difficult for all of them and it was wonderful to see them open up to each other throughout the story. Even though Ari is often unnecessarily hard on himself and very negative in general, I completely understood and felt for him. He had so many questions about himself and his family that he couldn't answer on his own and he struggles with that weight throughout the book.
Overall, this was a beautiful story about growing up and coming to terms with yourself, about family and friendship, and about falling in love. I highly recommend this book to anyone, it's exceptionally well written and handles different sensitive topics incredibly well.